What is white elephant gift exchange?
A White Elephant Gift Exchange is a popular party game played during parties, especially during Christmas. It's also known as Secret Santa, Yankee swap.
The idea is really simple – everyone comes with a wrapped gift of a agreed value or theme, and vie for the gift they want during the exchange.
How to play white elephant gift exchange?

So, how do you play the white elephant game? Here are the basic rules for white elephant gift exchange
The Gift

Everyone must come with a gift
Agreed value of gift. The gift must be of the value that is agreed within the group. As a host, you can indicate a gift value. Common price tag of a white elephant gift is $10-$20.
Themes for white elephant gift exchange. While this is optional, it can add lots of fun to the gift exchange. You can ask people to explain the rationale of their buy and how it fit the theme. Laughter is guaranteed.
Some themes you can consider

Alphabetical – must start with the letter ….
Blissful living – Kitchen or home decorations
Favorite Things
Favorite Shows – The Office, Games of Throne, Harry Potter
Hobby – Sports, Crafts, Side Hustler, Baking, Cooking
(You can have friends guessing with themes like The Host's Favourite Show or hobby)
Retro 80s, 90s
Memes
The Weirdest Thing
Descriptive – e,g, soft & tender, long and hard, funny and entertaining
Describe the Host with this item
More suggested themes here

Wrap the gift

Part of the fun is receiving a mysterious gift. You can prank each other by putting unwanted (but nice!) things into the gift wrap; adding weight to the gift with rocks so that the recipient can't guess what it is.
The Basic Game Play

Put the gifts in a common pool.
Decide who goes first by

Picking numbers from a fishbowl
Going by age, month and date of birth, height, weight
Or in the order the host decided prior to game

Choosing and Stealing

In the order decided, each person gets to choose a gift from the pool. He immediately opens up the present for everyone to see.
The next person will decide to open a new gift or steal from someone with an opened gift.
Person with stolen present will wait for the next round to pick or steal a gift.
This continue until everyone has a gift to bring home.
Note: to ensure the game runs smoothly, it's advisable to enforce a no-immediate re-stealing rule.

Here's a white elephant gift exchange rules printable you can download for your next elephant gift exchange!

Ideas for white elephant gift exchange
So what makes a good white elephant gift? As the name suggests, it can be a useless gift for the fun of it. But it's always nice to receive something fun, and something interesting that you would not have otherwise gotten for yourself.
Here are some ideas for your next white elephant gift exchange:
White elephant gifts below $10
Beacon Anything….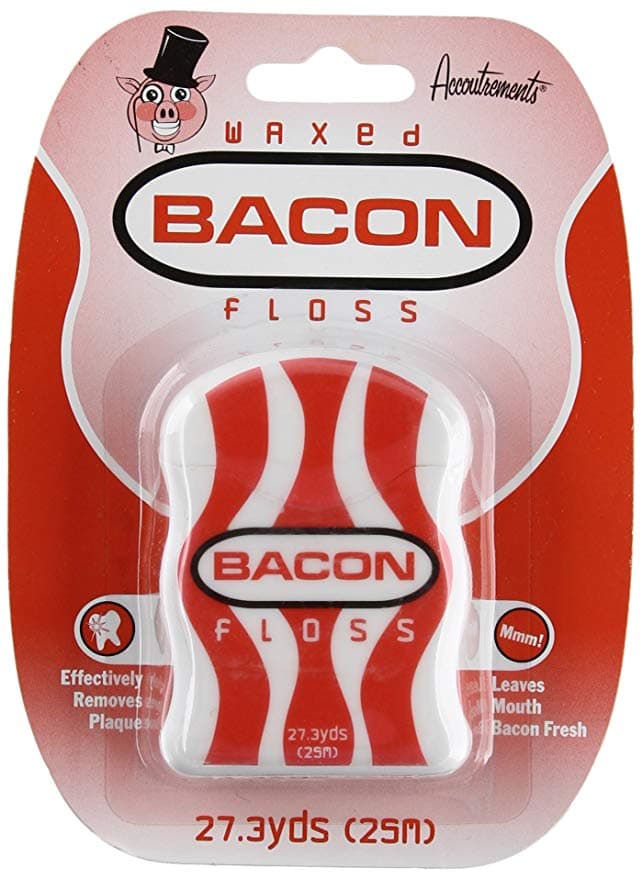 Beacon Floss
Price: USD 9.99 for 2
Where to get it: Amazon

Beacon Bandages
Price: USD 5.85
Where to get it: Amazon
Beacon Balm
Price: USD 4.85
Where to get it: Amazon
---
Funny Motivational Stickers
Funny Adulting Stickers
Price: USD 9.99
Where to get it: Amazon
Cute Animal Motivational Stickers
Price: USD 9.99
Where to get it: Amazon
And just for FUN
Prank Jigsaw Puzzle
Price: USD 7.99
Where to get it: Amazon
PetTalk Animal Translator Collar
Price: USD 7.99
Where to get it: Amazon
---
White elephant gifts from $10 – $20
Noisy Nonsensical Gifts
Blah! Button
Price: USD 10.99
Where to get it: Amazon
That's BS Button
Price: USD 11.99
Where to get it: Amazon

That's Fake News!
Price: USD 16.99
Where to get it: Amazon
---
Stupid Party Games
Drunk Stoned or Stupid Party Game
Price: USD 18.00
Where to get it: Amazon
Get You Drunk Cards
Price: USD 15.99
Where to get it: Amazon
Exploding Kittens
Price: USD 19.99
Where to get it: Amazon