Need ways to copy or trace a picture onto canvas for painting? Here are a few simple ways you can do so.
1. Using the window or lightbox
If you are painting over a paper or a thinner canvas, you may simply place your picture over a window, or a lightbox, and trace over it. If you do not fancy standing up against your window for hour long, you can get a portable light box for less than USD20 from Amazon.
2. Using a transfer or carbon paper
This is probably the most recommended way if you are transferring your image over to the standard art canvas, or any surface that you like to paint over.
Trace your image using a transfer or carbon paper. Place your carbon or transfer paper between your image and canvas/surface. Start tracing to transfer your image over to your canvas.

Note: Always tape down your image during the tracing process so that your image will not move and your tracing will be accurate.
3. Tracing with just your pencil
This is probably the most economical method – one that you can do anywhere without the need for additional tool. All you need is to sketch over the back of the image you want to transfer over to your canvas as shown.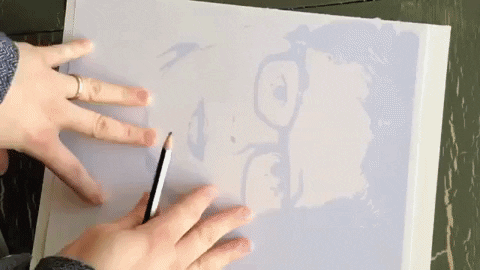 After you are done with covering the entire back of your image with your pencil, start tracing your image. Then, viola! Your image will be inked onto your canvas.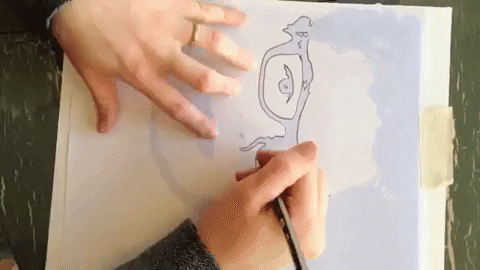 Note: You can also do the same with chalk, charcoal or any ink that's easily transferrable. To ensure your image does not move during the tracing process, it's recommended that you tape down the paper during the tracing.
4. Using an Art Projector
If you need to transfer your image to a bigger canvas, or expand the image by 2-10 times the size (e.g. for a wall mural), you can consider to invest in an art projector that will cost you between USD 30 – USD 100.
All you need to do is to project your image onto the wall or canvas, expand the image to your desired size on the wall or canvas, and start tracing away.
6 tracing methods in action
Here are 6 tracing methods in action which you may like to refer to. Two method that's not covered above –
Tracing over your computer screen (0:06). (Though personally, I won't recemmend this method as you won't want to risk spoiling your computer with dead pixels! )
Tracing your image to create indent on the canvas, and then tracing over the indents again. (3:55) As this already sounds, it's double the tracing job! But there are times when you just do not have what you need (not even pencil!), so this method is for that moment!
Other Tutorials You might Like
PS: Howcrafts is a small home run business. We get a small commission if you purchase anything from these links. Your support help support us in providing more free resources for our fans and community. Thank you for your support!